Home
»
About Our Furniture
About Our Furniture
Designed Furniture doesn't cut corners. Timber that has sap pockets or marks is rejected, joints butt precisely, tables do not rock, chairs do not come apart even with hard use. The furniture is made with joints butted so tightly they are almost invisible and all furniture is then finished with atleast three coats of varnish.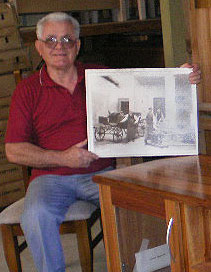 Gerry Olah owns and runs the Designed Furniture Factory in Batemans Bay established over 30 years ago.
Furniture is made from choice of a variety of timbers, and is freighted all over the country because our unique style and craftsmanship can not be found anywhere else in Australia.
The quality of the furniture has been recognised with Gerry receiving a "Pride of Workmanship" plaque by the Rotary Club of Australia, and it is also being recognised every day by satisfied customers.